Acadie en Fête — Let the Party Begin
by Bruce DuBois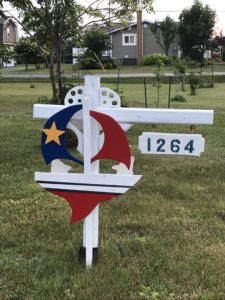 The Congrès mondial acadien 2019, the Worldwide Congress of Acadians, opens
on Saturday, August 10, in Prince Edward Island and New Brunswick, Canada.
There are still last minute preparations going on, but the entire region stands ready
to receive their cousins from around the world.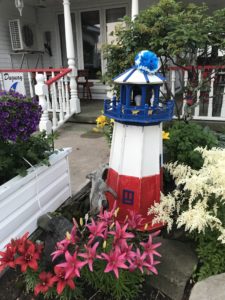 The weather is wonderful. The average temperature at sunrise is 60 degrees. As
the sun warms up the day, the thermometer can get up to 85 in the bright sunshine.
It's a good idea to use sunscreen and a hat is useful.

There's color everywhere. The sky is bright blue. Colorful blossoms cascade from
planters and fill gardens. Flags, yard signs and decorations in Acadian red, white
and blue are everywhere. The bright yellow lobster cages line the wharves, at the
ready for the season. It's obvious that the party is ready to begin.
Locals and tourist alike are out in force, enjoying the glorious summer weather.
The sand is warm and the water is above 60 degrees. It's time to jump in!
One Louisiana bus tour group from Lafayette has arrived in Prince Edward Island
to enjoy the opening ceremonies and activities. Another bus is bringing an
important contingent of Heberts to the Hebert Family reunion in Cocogne, New
Brunswick, on August 13 & 14. The bus group sponsored by the Broussard
Chamber of Commerce is not far behind. Many other Cajuns will also cross the
Confederation Bridge to Prince Edward Island from New Brunswick, to be counted
among those who are celebrating this 6 th Congrès mondial acadien.